The Bright Open will be held in early February. It was a near-run thing with the Victorian border being closed due to COVID until shortly before the comp, but we're now in a 'green zone'. There are eight current and recent members of ACTHPA taking part in this year's Bright Open, out of a field of 53 competitors:
Kari Ellis,
Alistair Dickie,
Graham Rose,
Phil Robinson,
Alex Chapman,
Alex Boiko,
Daniel Thuillier and
Johno Quinn.
Results
Results will be up on airScore. We'll also keep up with the Canberra pilots' progress on this page.
About the Bright Open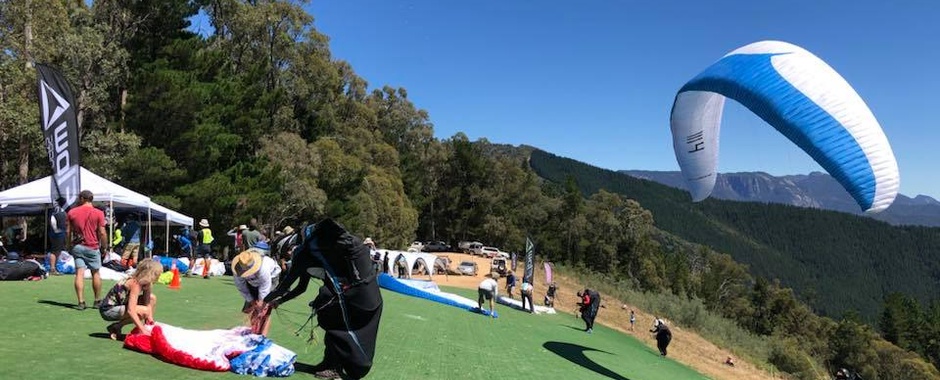 Bright is a beautiful mountain town in Victoria, about five hours' drive from Canberra. It is a regular flying destination for Canberra pilots, but is also a favourite for Melbourne pilots, interationals, and has a thriving local scene including several instructors.
From the Bright open website:
Bright Open 2021 is a one of three legs of the Australian Nationals (SAFA) AAA sanctioned competition of the 2020-21 season. The Open will consist of one round which will count towards a pilot's WPRS score. All tasks over the 8 days will contribute to the AAA Sanction / Aussie ladder / Team Selection Ladder. Being AAA rated, this will see 450 points available for the Aussie ladder, however, if Covid - 19 restrictions mean that some pilots cannot travel interstate then the event might be downgraded.
Note that the open has since been downgraded to a B sanctioned event.
After the Bright Open, many of the pilots will move on to the Corryong PG Open.
The Sites
Bright flying site is located in Victorian Alps to the North East of Melbourne surrounded by beautiful mountainous landscape of various national parks. It is situated in between Mount Buffalo, Mount Bogong and Mount Feathertop that dominate about 1000-1200 m above the valley with peaks about 1500-1800 ASL. There are two mostly common used takes off Mystic and Gundowring. Both sites are privately owned.
Entry
The competition is open to all pilots with a minimum of an Australian PG 4 rating or equivalent (IPPI 4)
Prizes
Trophies for Fun, Sport, Serial, Open, Female, Intermediate and Reynolds categories. Classes will be defined by Aspect ratio and EN certification (as well as PG rating, weight and gender). Individual female pilots may choose to to opt out of the female class.